Interprofessional Team Case Conference (ITCC)
Lowcountry AHEC partners with the Medical University of South Carolina (MUSC) and A.T. Still School of Osteopathic Medicine to provide health profession students an interprofessional team learning experience during their community-based clinical rotations. This Interprofessional Team Case Conference (ITCC) has been developed by an interprofessional faculty team, and seeks to provide students with an opportunity to contemplate patient care in a collaborative way, with each student bringing knowledge of their respective field to the table.
Students review a patient case as an interprofessional group and focus on the following during this case conference:
Priorities for the management of the patient.
Consultations, as appropriate, and how to facilitate them.
Community resources available to aid with the patient's care.
Development of a comprehensive, team-focused plan of care and identification of priorities in the patient's care.
Patient/Caregiver Education.
Population health-related implications of this case.
Connecting the AHEC Pipeline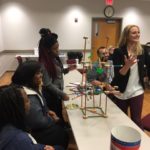 Lowcountry AHEC's Health Careers Program (HCP) and Health Profession Student (HPS) Program collaborate to provide an opportunity for participating health professions students to practice working as an interprofessional team by exposing Health Careers Program students to healthcare professions. The goals of this interaction are to:
Incorporate HCP students into HPS activities.
Provide career exploration.
Provide participating students to work as an interprofessional team by exposing and introducing the basics of team building.
Initiate mentor-mentee relationships.
Contacts
Emily Warren, LMSW
Health Professions Student Coordinator
Phone: (843) 782-5052, ext. 105
Fax: (843) 782-5053
warrene@lcahec.com
Kim Stephens, M.S.Ed.
Health Professions Student Coordinator
Phone: (843) 782-5052, ext. 106
Fax: (843) 782-5053
stephensk@lcahec.com