The Health Professions Student (HPS) Program facilitates placement of health professions students into clinical rotations, which are in rural or underserved areas of the lowcountry. This service bridges the gap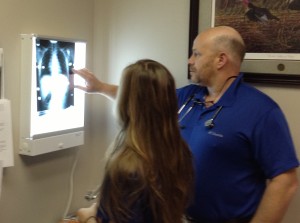 between the university/college classroom setting and the clinical site experience. As interactive members of the community, Lowcountry AHEC's HPS Coordinators, Kim Stephens and Emily Warren are able to connect health professions degree programs and students with clinical sites as well as facilitate involvement in community health projects.
The HPS Program's Core Service Goals are to:
Foster the development of health professionals who are clinically competent and responsive to the needs of communities.
Continually monitor and seek to respond to the need for health professionals in South Carolina.
Universities
Lowcountry AHEC serves all schools in the state preparing health professionals. Our priority commitment is to those students entering primary care, to those professions where there is a shortage of providers and to those counties that are medically underserved.
Services provided vary according to curriculum requirements and goals of each academic program but usually include the following:
Interface with clinical programs at SC academic institutions
Identification of preceptors and clinical rotation sites
Assistance with housing
Student orientation to the community
Clinical site visits
Technology support
Assistance with community based projects
Network with the community health agencies
Facilitate the Interprofessional Programs
Contacts
Emily Warren, LMSW
Health Professions Student Coordinator
Phone: (843) 782-5052, ext. 105
Fax: (843) 782-5053
warrene@lcahec.com
Kim Stephens, M.S.Ed.
Health Professions Student Coordinator
Phone: (843) 782-5052, ext. 106
Fax: (843) 782-5053                                                                                                             stephensk@lcahec.com